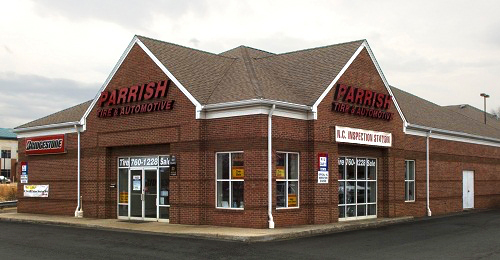 Parrish Tire and Automotive is a locally owned and operated group of tire and automotive service centers seeking to provide customers with solutions to all their automotive needs. At our locations in Winston-Salem, Statesville, Mt Airy, and Dobson we offer a wide array of tire options, leveraging Parrish Tire's locally based wholesale tire distribution operations to offer high quality tires at competitive prices. In addition to well known brands such as Bridgestone, Firestone, Yokohama, Goodyear, Michelin, Continental, General, and Kenda we carry a number of high quality private brand tires to provide multiple options across all performance and price levels.
In an era of big box stores and national chains, we are confident that our unique combination of market expertise, locally-sourced inventory, and transparent pricing will provide our customers with the diversity of tire options they demand at the prices they deserve. We take pride in remembering our customers' names and vehicles so we can provide you with the quick, accurate, and personalized service that differentiates us from the competition. While many of our customers do not always look forward to spending their hard earned money on new tires or automotive repair, we pledge to make the experience as pleasant as possible by providing you with honest, friendly service, as well as guidance and tips to reduce auto-related costs going forward. To prove it, we provide our customers with free tire rotation and balancing for the life of their tires, as well as complimentary air pressure and alignment checks.
NOT JUST TIRES!
In addition to being a home-grown source for all your tire needs, each of our locations offers full service automotive repair and maintenance, utilizing top of the line technology and parts and to get you back on the road as safely and quickly as possible.
Services Available
30,000/60,000/90,000 Preventive Maintenance
Air Conditioning
Alignments
All Flushes (Transmission, Coolant, Power Steering & Brake)
Brakes
Computer Diagnostics
Front End Repair
Fuel Injections
N.C. Inspections
Oil Changes
Radiators
Shocks & Struts
Steering Components
Tires
Tune ups
Wheels